Let's celebrate the magnificent pairing that is CHEESE and CIDER!  Join us Saturday, October 8th at
The Finger Lakes Cider House
! They've invited all the Cider Week FLX cideries and Finger Lakes Cheese Alliance producers to come share their best with you! Pairings to expand your mind and get your taste buds tapping Nothing goes better with Finger Lakes cider than Finger Lakes cheese! Find out all the
up to date details right here
. You can also check this event out on
Facebook!
There will also be events celebrating Cider and Cheese in partnership with the Finger Lakes Cheese Alliance throughout the region on Saturday Oct. 8th.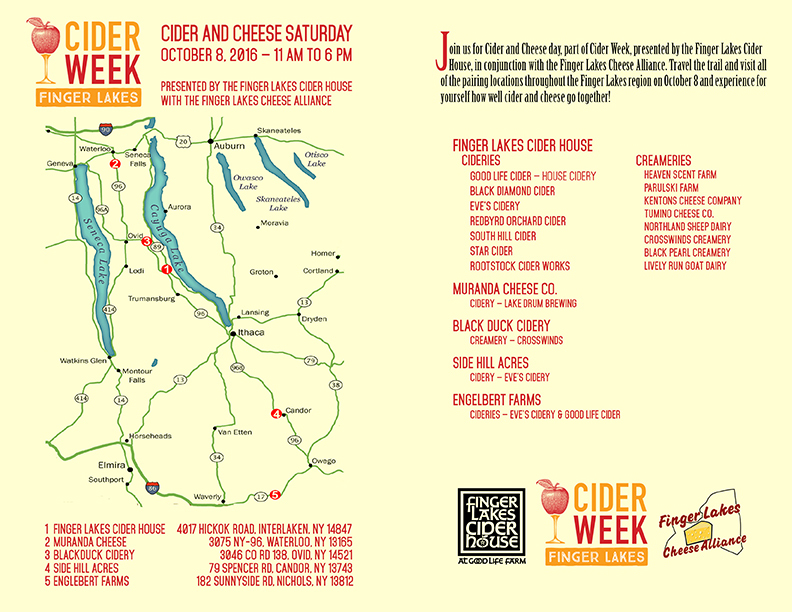 Pay-As-You-Go Tastings Featuring 8 FLX Creameries Paired with 7 FLX Cideries!
Cideries Tasting at the Finger Lakes Cider House: Good Life Cider, Black Diamond Cider, Eve's Cidery, Redbyrd Orchard Cider, South Hill Cider and Guest Cider Maker Appearances by Star Cider and Rootstock Ciderworks.
Creameries: Black Pearl Creamery, Crosswinds Farm and Creamery, Engelbert Farms, Heaven Scent Jersey Cheese Shop, Kenton's Cheese Co, Lively Run Goat Dairy, Northland Sheep Dairy, Parulski Farms, Tumino Cheese Co.
Food for All
Doughnuts from Whalecat
Hot-out-of-the-mobile-oven delights from Wide Awake Bakery!
Off-site Events!
Engelbert Farms, 182 Sunnyside Rd, Nichols, NY 13812, 10:00pm – 5:00pm
Cheese and Cider Saturday in conjunction with Tioga Farm Trail Open House – Saturday, October 8, 10 to 5. There will be free farm tours (weather permitting) from 11 to 4 on each hour.  Free samples of Engelbert's organic cheeses and smoked sausages will be available all day.  Certified organic cheeses – cheddars, goudas, feta, moochego and moovache, as well as farm-raised certified organic meats and some winter vegetables will be available for purchase in the farm store.
The following vendors will be joining us here on the farm for the day: Eve's Cidery (VanEtten, NY) – Autumn Stoscheck will be providing samples and sales of their hard cider, as well as cider from Good Life Farm. Beeman's Apiary (Owego, NY) – Joel Babcock will be providing samples and sales of his honey. Seneca Sunrise Coffee (Watkins Glen, NY) – Jochen Beheydt will be sampling and selling their locally roasted coffees. The Food Apothecary at Ravenwood Gardens (Binghamton, NY) – Abigail Stevens will have her local food trailer on hand to provide hot food choices – made from ingredients from our farm!
3046 Co Rd 138, Ovid, NY 14521, 10:00am – 5:00pm
Crosswinds Creamery at Blackduck Cidery for cheese & cider tastings and pairings.  Enjoy cider by the bottle or glass.
79 Spencer Rd. Candor NY, 13743, 9:00 – 6:00pm
Join us for family fun during the Candor Farm Festival. Mingle with the goats as you tour the barn. Visit the Farm Store featuring goat milk NY state made products. Demonstrations of Atlatl (ancient spear throwing). There will be a Cider + Cheese tasting featuring Eve's Cidery. Find this event on Facebook!
3075 NY-96, Waterloo, NY 13165
Lake Drum Brewing Company will be tasting alongside Muranda Cheese Company. They will be pairing their Staghorn cider with Muranda blue, Ida Red with 2 year gotcha guards, and Hopped sour with 1 year aged cheddar.
Cider + Cheese @ Hazlitt 1852 Vineyards
5712 RT-414, Hector, New York 14841
Saturday, October 8th 11:00 – 5:00pm
Join us at The Oasis for a special Cider Tree and cheese pairing! We will be serving Cider Tree and Cider Tree Cinnamon Spice and pairing them each with savory cheeses from Sunset View Creamery!
The Oasis bar will also be open for drinks, lunch, and snacks. A great way to spend your Saturday.
Check this event out on Facebook!